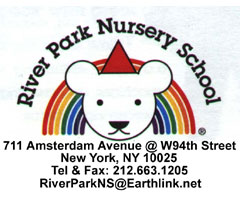 River Park Nursery School
Mission Statement



A cooperative preschool serving the west side community since 1967.
1. River Park Nursery School is in no way representative of, or associated with, any specific political beliefs or political groups. We welcome all people to participate in our learning community. Regardless of our racial, sexual, religious, and political differences, we are united by two main ideas: one, that all human beings must learn to live together, to share with and help each other; two, that sound educational goals can be fulfilled by a creative approach to learning. In bringing together different elements from the particularly diverse community of the Upper West Side of New York City, River Park seeks to create a small working model of an environment where those ideas are put into practice on a daily basis. Our goal is to help children become critical thinkers, and caring, active members of our community.
2. River Park respects the child's self-expression and also cultivates respect in the child for the rights and wishes of others in his/her community. We encourage each child to develop both as an individual and as a member of a community. We believe these two goals are related.
3. Although we live in a competitive society, and we do believe in the acquisition of skills, we feel it is not productive to push children of this age. Learning at this level should be in harmony with the child's individual development. We meet each child at his/her own level and pace of development, whatever it is.
4. Through presenting a broad range of cultural, intellectual and social experiences, River Park increases the child's capacity to understand and manipulate his/her environment.
5. River Park give a positive sense of the school experience so that the child will be receptive towards later learning. In a warm and lively atmosphere, children learn to enjoy school. In this way, River Park provides the transition between family and educational institutions of the wider society.


Return to Home Page