Philosophy / Mission

"The hallmark of River Park is the strong sense of humanistic values that is transmitted by truly caring and committed people." - Ann Caban, retired teacher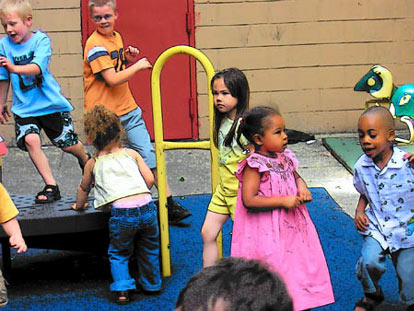 For more than 30 years, River Park Nursery School has been nurturing the young children of the Upper West Side community - preparing them with the skills necessary to move confidently between the family and the wider world of learning in society.

Our core goal is the individual growth and the development of the whole child - creatively, socially, emotionally, and intellectually. We meet each child at his or her own level and pace, then guide and build from there. Through this personal approach a sense of trust, dignity and self-respect is strengthened.
Emotional and Social
The primary objective of River Park is to promote a positive sense of self in each child. Interpersonal relationships and a loving and nurturing environment set the stage. It is necessary that each child feel positive and important. Each child has a contribution to make. Every contribution is meaningful. The teachers accept children as they are and build on that concept. It is essential that the positive sense of self be established on an individual basis so that every child can be successful.

Relationships with the community are also a strong focus of the program. Once a child's positive sense of self has been established, that child can then respond appropriately to the needs of the community. The emphasis is on working together in a cooperative, non-competitive environment.


Academic Philosophy
The balance between the unfolding of self and the unfolding of knowledge simultaneously is the primary goal of the program. Most learning takes place in the early years of life. The foundation for all learning is established during preschool years. It is through creative play that the foundation is set. Creative experiences allow children to explore their inner feelings and to express them in unique ways. Every child is born with the ability to appreciate and to create music, every child is born with the ability to invent art and to enjoy art. A child's world is naturally full of interrelated experiences. During play a child experiences language, math, science and reading as an integrated whole.
River Park 's focus is on maintaining a stimulating environment that provides children with many choices. Children's ability to express themselves through multiple and creative experiences is part of the unfolding process. The teacher-guided activities combined with children's play insures that this happens. River Park was founded 37 years ago with these principles in mind. They remain equally important today. The balance of social, emotional, academic, creative and physical experiences is crucial for the development of the whole child.
Mission Statement

A cooperative preschool serving the west side community since 1967.


1. River Park Nursery School is in no way representative of, or associated with, any specific political beliefs or political groups. We welcome all people to participate in our learning community. Regardless of our racial, sexual, religious, and political differences, we are united by two main ideas: one, that all human beings must learn to live together, to share with
and help each other; two, that sound educational goals can be fulfilled by a creative approach to learning.

In bringing together different elements from the particularly diverse community of the Upper West Side, River Park seeks to create a small working model of an environment where those ideas are put into practice on a daily basis. Our goal is to help children become critical thinkers, and caring, active members of our community.

2. River Park respects the child's self-expression and also cultivates respect in the child for the rights and wishes of others in his/her community. We encourage each child to develop both as an individual and as a member of a community. We believe these two goals are related.

3. Although we live in a competitive society, and we do believe in the acquisition of skills, we feel it is not productive to push children of this age. Learning at this level should be in harmony with the child's individual development. We meet each child at his/her own level and pace of development, whatever it is.

4. Through presenting a broad range of cultural, intellectual and social experiences, River Park increases the child's capacity to understand and manipulate his/her environment.

5. River Park gives a positive sense of the school experience so that the child will be receptive towards later learning. In a warm and lively atmosphere, children learn to enjoy school. In this way, River Park provides the transition between family and educational institutions of the wider society.